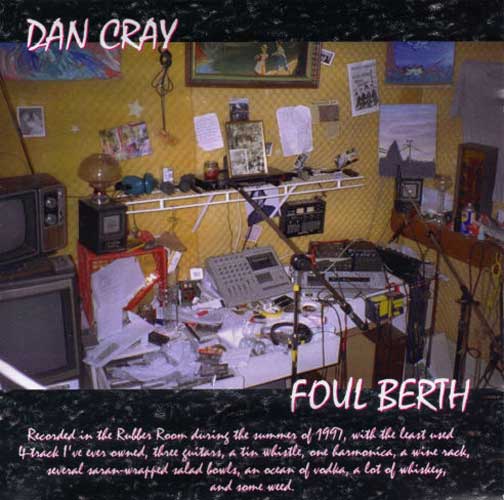 Foul Berth
Recorded in the Rubber Room during the summer of 1997 with the least used 4-track I've ever owned, three guitars, a tin whistle, one harmonica, a wine rack, several saran-wrapped salad bowls, an ocean of vodka, a lot of whiskey, and some weed. Foul Berth was kind of a peak as far as my cassette 4-track recording was concerned. After struggling to finish Wetbrain on a dying machine, I'd decided it was finally time to break down and buy one. All of the previous 4-tracks I'd used were someone else's, either on loan or graciously handed down to me. I still couldn't afford a new one, but the used Tascam porta-studio I bought from Pro Audio in Watertown was in much better shape than any of the others I'd had at my disposal. It's captured on the album cover of Foul Berth which is a photo of the Rubber Room right around that time.
While all of the other albums had filled one side of a 90 minute cassette, or at most both sides of a 60, Foul Berth was its own 90 minute production. I was newly married and inspired. I actually stumbled upon the album's title while on our honeymoon in Ireland. It was in Dingle or Doolin, one of the coastal towns we visited that I saw the sign "Foul Berth" on a dock. What was in essence a no parking sign for boats, struck me as a phrase that could be applied to multiple situations ranging from an adulterous dalliance, to the tilt-a-whirl of emotions in a delivery room. Either way, I thought it sounded awesome.
Most of the songs were very new, although some, like "Drown Her" and "Filmstrip" had been kicking around for quite a while. "Filmstrip" had actually been recorded a couple of years earlier in Jenn's Alston bedroom. The percussion and Gilligan's Island episode heard throughout the song were actually recorded with one mic in front of the TV while I banged on the entertainment center with a couple of vitamin bottles. "Baby's Breath," on the other hand was made up and recorded on the spot one night in the Rubber Room. The drums that became kind of the focal point of that song were actually salad bowls that I covered in saran wrap, close mic'd and played with a pair of swizzle sticks. Granted, I did get a little carried away with the tin whistle on "Alternative," and "Summer" goes on longer than it has any right to, but I was in the middle of a seriously productive stint of creativity.
The soundbites are from Ishtar. After all what could possibly, more perfectly tie together an idiot songwriter's collection of songs, than a movie about two idiot songwriters. It's a great movie and if you don't like it, you probably haven't seen it.